Simply, Cobalt Link is all about providing instantaneous, safe and secure access to smartphone, tablet or personal device content, from the desired vehicle screen

Cobalt Link – Device connectivity for drivers
Access to drive safe smartphone content from the dash. All popular connectivity protocols available including Cobalt Link+, Android Auto and CarPlay. User interface mirroring of smartphone or other device, integration with and control from the vehicle infotainment system, head unit, voice or console.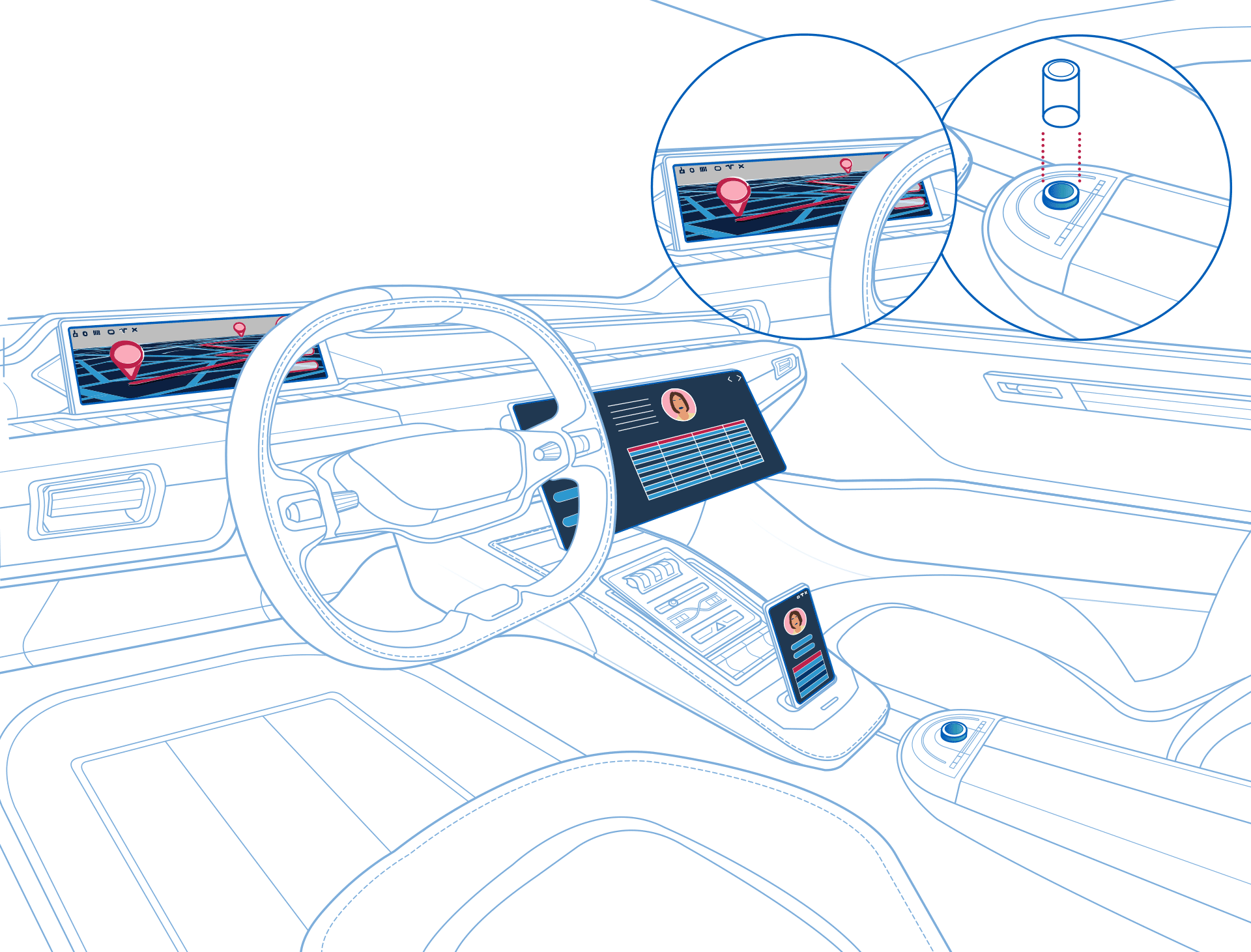 Want greater flexibility and freedom within your IVI solution?
Cobalt Link+ – Device integration for drivers
Same secure and seamless device connectivity for drivers but with full access to smartphone native content, apps and services from the IVI. Full mobile and infotainment integration, user interface mirroring and control and OEM or Tier 1 customisation of user interface and user experience:
Cobalt Link and Cobalt Link+ have many features, here are some of the major benefits.

Intelligent Connectivity
Thin Client head unit for smartphone centric intelligence & connectivity without the burden of updating head unit based software. Simplifying the in-vehicle technology cycle.

Drive Safe
Access to drive safe smartphone applications from the dash including maps, music and audio content.

Customisable
OEM or Tier 1 customisable User Interface or User Experience with Cobalt Link+. Allowing greater flexibility from within your infotainment system.

Add-On Box
Add-On Box (system on chip device) integration for aftermarket or port installed option – local maps, navigation, fleet management scenarios. Cobalt Cube
Cobalt Cube® is a system-on-chip (SoC) device that provides a consistent, intelligent applications hosting platform, with the vehicle HMI acting as the display. Increasingly popular for aftermarket or port installation, it allows OEMs to provide popular applications and services for its customers independent of smartphone handset, head unit or global location. Cobalt Link+ is embedded within Cobalt Cube and provides virtually instantaneous connectivity between the device and the vehicle display.

Feature rich
Fully loaded, feature rich device that is integrated discreetly within the vehicle during production or as an aftermarket option

Expandability
Enables car makers to vastly expand the functionality of their infotainment system in a cost-effective way

Simple updates
Software updates are simplified via the Add-On Box rather than traditional embedded systems

Customisable
User Interface and User Experience can be fully customised, branded and controlled by the automaker, OEM or Tier 1

Configuration
Pre-configured for seamless access to maps, multimedia and whatever else the box is equipped with
Popular protocols
We support and deploy all major connectivity standards depending on our customers project requirements.

Cobalt Link+
Cobalt Link provides a single interface for device detection and management of multiple devices and protocols running simultaneously. At the same time, the modular architecture of Cobalt Link means that you can easily choose only the functionality you need, simplifying integration, and maximise the reusability of modules.

Android Auto
Protocol defined by Google as part of the Open Automotive Alliance to mirror features from Android devices to a car's in-dash information and IVI systems.

CarPlay
Apple's standard that enables an IVI system to be a display of, and also act as a controller for an iOS device.
We continue to support other protocols including MirrorLink, CarLife and SDL. Get in touch with the team to discuss your requirements.
Learn more about Cobalt Link+
Contact us
Have a question? Reach out to our team.
Call us
+44 (0) 1223 737200
9am-5pm GMT